How to Find the Best Dentist Near You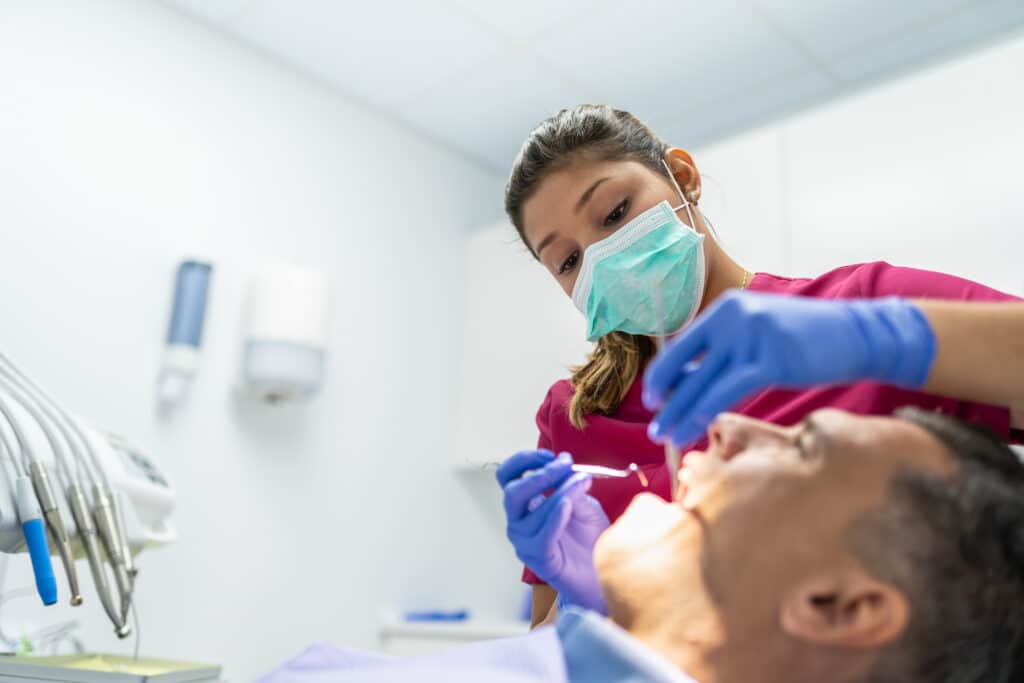 ---
Finding the best dentist near you is essential. You want a practice offering a helpful, professional, and honest service with the skills to resolve your dental issues.
Fortunately, that's precisely what Polished – A Dental Studio offers. Our team of highly-trained specialists is here to help whenever you need us.
Why Finding The Right Dentist Is Essential
Are you searching on Google for a "dentist near me"? If so, you're not alone. Every year, millions of patients try to find practitioners suitable for their needs online.
Unfortunately, it's not easy. Dentists aren't always 100 percent clear in their communication, particularly regarding how they can help you with your unique issues. Information may be incomplete on their website, or they might not offer the services you need.
At Polished – A Dental Studio, we understand the importance of finding quality dentists in your zip code (60657), Chicago. We believe patients should receive personalized care tailored to their needs and concerns. All treatment plans should be individualized.
Dental care should also be a positive experience. Hence, we prioritize patient care and satisfaction. Our modern and welcoming environment doesn't feel like a clinic but more of a home away from home.
When you choose Polished – A Dental Studio as your dentist, it fills you with confidence. You know that from that point onward, you're receiving high-quality care from a dedicated team of professionals committed to helping you achieve your oral health goals. Our team works with you long-term to achieve a beautiful smile and healthy teeth for you and your family.
Polished – A Dental Studio's Services
Polished – A Dental Studio provides a range of essential and cosmetic dental services throughout Chicago. Our team performs complex procedures daily, giving you confidence.
Restorative Dentistry
Our restorative dentistry services make your teeth look fabulous again. We can offer fillings, dental bridges, and same-day crowns.
Cosmetic Dentistry
We also provide a range of cosmetic dental treatments to make your teeth look even better. Options include dental bonding, teeth whitening, and porcelain veneers.
Periodontitis is a severe oral health condition that can lead to tooth loss. Fortunately, Polished – A Dental Studio offers deep cleanings designed to go below the gum line and target unwanted bacteria where it is active.
Orthodontics
Regular braces and Invisalign are available at Polished – A Dental Studio. These prosthetics straighten your teeth over time and give you confidence.
Preventative Dentistry
Polished – A Dental Studio also offers a range of preventative dentistry services designed to maintain your oral health long-term. These include cleanings, exams, and fluoride treatments.
What To Look For In A Dentist Near You
Here are some of the things you should look for when searching for a "dentist near me" in Chicago:
Professionalism. Dentists shouldn't take a cavalier attitude towards your teeth or oral health. They should always listen to your concerns and commit themselves to meet your oral health needs, whatever they happen to be. If they can't, they should immediately refer you to a specialist.
Comfort and convenience. Dental offices should also offer comfort and convenience, something we take seriously at Polished – A Dental Studio. Our team is on standby, offering flexible appointment scheduling and a calm, relaxing environment.
Technology and equipment. Check the dental practice has the tools to carry out procedures safely and effectively. At Polished – A Dental Studio, we use state-of-the-art equipment recommended by official national dental boards.
Range of services. When searching for dentists, choose a practice that can meet your needs. Polished – A Dental Studio offers comprehensive dental services, including preventive care, cosmetic dentistry, and restorative treatments.
Customer Testimonials
Customers looking for a dentist in 60657, Chicago, love our services. That's because they are our top priority. We're always thrilled to see what they think of us.
Here are some examples of what they've said about our services:
"I switched to Polished a few years ago after some shady billing hassles at another local dentist. Have nothing but good things to say about this practice and my dental care. Great staff and very transparent." – Brian M.; Cook, IL.
"Had a great experience. I love how clean everything is. I walked in, had a place to put my stuff away, was given sanitized crocs to wear inside the dental office, and was asked to wash my hands. Fantastic cleaning experience and everyone was fast and efficient. Pleasant conversation! Will be returning soon!" – Jagoda Kielczyk
Whenever you search for a "dentist near me," make sure you check out the personal ratings of the professionals at the surgery. The standard of care can vary within a dental practice considerably, so always take care.
You can see the average rating of all our full-time dentists at Zocdoc, including Dr. Trupti Desai, Dr. Gina Grossee, and Dr. Frank Cincione. All are five-star rated.
Easy Appointment Booking Process
Booking an appointment with a dentist at Polished – A Dental Studio is quick and easy. You can book an appointment online or schedule one over the phone. We're open until 7 pm every day, except Sundays.
To book an appointment online, visit our website and click Schedule Online Today in the header bar. You'll be taken to a page where you can enter your details and arrange a slot.
Alternatively, if you prefer to book your appointment by phone, simply give us a call and one of our friendly team members will be happy to assist you. We understand that life can be busy, which is why we offer flexible appointment scheduling to accommodate your schedule.
Pricing And Insurance
At Polished – A Dental Studio, we believe that everyone should have access to high-quality dental care. That's why our team offers a range of payment methods and plans to cover the cost of treatment. We accept most major insurance plans, and our team will work with you to maximize your benefits.
Unlike some dentists in Chicago, we commit to providing you with transparent pricing for your treatment. We will always discuss procedure costs before carrying them out, letting you decide whether you want them. Our goal is to ensure all our patients can stick to their budgets while also getting the valuable treatment they need.
Wrapping Up
In summary, finding the right dentist near you can have a tremendous impact on your oral health and overall well-being. Polished – A Dental Studio, is committed to providing personalized care and exceptional service to all of our patients. We have a range of services to suit all your dental needs, whether cosmetic or medically essential. Book your appointment today and see how our team can help you live a better life.